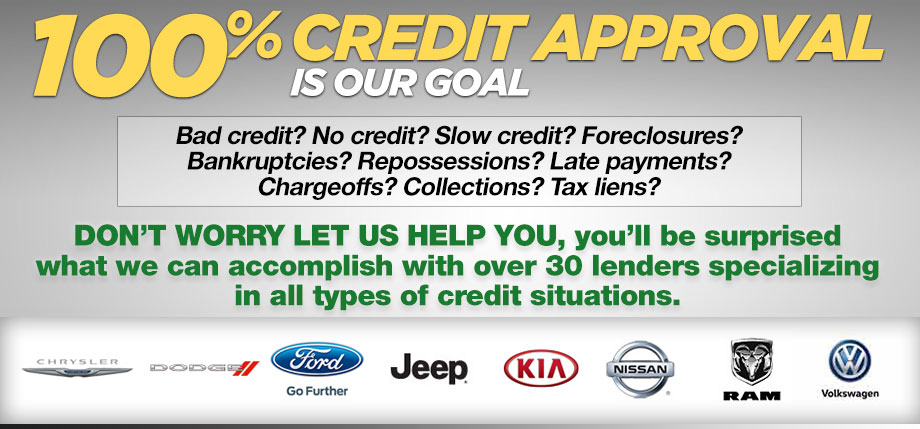 AutoServ Strives for 100% Credit Approval and Unmatched Benefits!
Here at the AutoServ Dealer Group, we know that sometimes the going gets tough and you may fall behind on payments, which in turn will have a negative impact on your credit score. We don't believe this should be a barrier for car-shoppers, as we're more concerned with your ability to pay future bills. That's why our car dealerships near Laconia, NH, strive for 100% credit approval if you want to finance or lease a new vehicle from us. It doesn't matter if you have no credit, bad credit or are a first time buyer, as our experienced staff members will work hard to accommodate you. All you need is $99 and a job and you're approved at AutoServ! 

Need A Bad Credit Auto Loan In NH? No Worries!
When you decide to shop for a new or pre-owned Nissan, Ford, Jeep, Kia, Volkswagen or any of the other spectacular brands we have for sale, you can capitalize on AutoServ Benefits. We've set up this program to provide extra incentives to shop at an AutoServ dealership, and we want to build long-lasting, meaningful relationships with the drivers we serve. The full collection of AutoServ Benefits consists of perks like:
Lifetime NH State Inspections
Lifetime Shuttle Service (within 10 miles)
Lifetime Pre-Vacation Check-Up
Lifetime Free Auto Body Shop Estimates
5% Discount on Accessories
50% Off Paintless Dent Repairs
As you can see, we try to go above and beyond to satisfy our customers here at AutoServ. If you'd like more information about any of the Benefits, feel free to contact any of our dealerships in the Tilton, NH, region. We look forward to serving!